ANNOUNCING

~

JIM CARROLL
by
TOM CLARK
"A poet departs, too soon, and there is a void that will not be filled. From somewhere deep and old the tears well up in the dark night.
When I met Jim in 1967 he was seventeen. He had been leading a triple life: high school All-American basketball star, heroin addict/ street hustler, poet."
The above is from Tom Clark's wee memoir of Jim Carroll, as submitted by the author, newly published from Longhouse for the Spring Equinox 2010. With photographs by Bill Berkson, Mary K. Greer, and Beatrice Murch. In glossy photographic wraps, hand sewn in four colors. Ready to be slipped into your back pocket, or anyone's.
$15 ~ Limited availability
plus $3.95 shipping/handling.
order now through Paypal for free US shipping (international orders, please inquire)
Tom Clark's Jim Carroll is now available from -
Longhouse, Publishers 1604 River Road Guilford, Vermont 05301
802-254-4242
email: [email protected]
[credit card, paypal or check]
Tom Clark was born in Chicago 1941. Man of letters in poetry, prose, biography and the fine art of proper blogging. A graduate of the University of Michigan, he then attended Cambridge University and University of Essex before returning to the United States in 1967. A long time resident of the American west, he makes his home with Angelica in Berkeley, California. This is Tom's second Longhouse publication along with Single - Longhouse, 2009.
Also available from Longhouse ~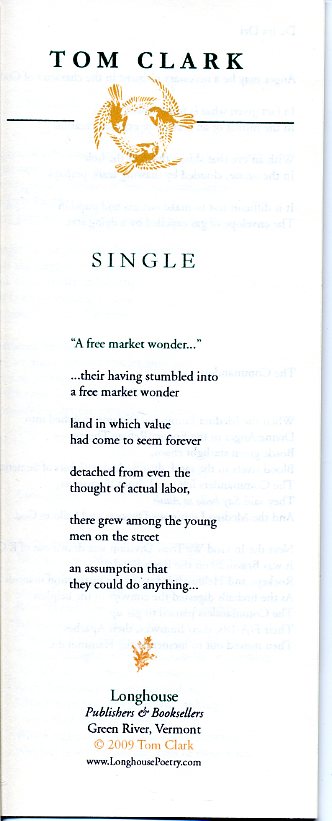 Tom Clark. Single. 2009
A tall three-color foldout folio of new poems by Tom, many drawn by the poet from his blog Beyond the Pale. A union truly between the screen appearance and paper edition. There are both signed (please inquire) and unsigned editions. Unsigned: $7.95
Use Paypal? To purchase Single, use this link for shipping within the U.S
Longhouse, Publishers 1604 River Road Guilford, Vermont 05301
802-254-4242
email: [email protected]
[credit card, paypal or check]
---
LONGHOUSE
A BOOKSTORE
Please visit our complete catalog of titles Longhouse Publications:



Longhouse Publications Catalog

Link to our Catalogs

New Arrivals to the Bookshop
Our Catalogs of Books - Poetry & More ! for Sale
Longhouse Publishes Poets Online including the Woodburners Reviews - AUTHORS A-Z
© 2010 by Bob & Susan Arnold
Updated September 2010
Site design by two-hands
www.LonghousePoetry.com