New Arrivals to our Bookshop !
Our Catalogs of Books - Poetry & More! for Sale
Home / About Longhouse / Books for Sale / Friends & Links / Contact Us/To Order / Write Us
To purchase the full booklet, this is available exclusively from our Bookshop:
Jonathan Greene. The Death of A Kentucky Coffee-Tree & Other Poems. Longhouse, 2006. First edition. Fold-out accordion booklet. New. Limited edition. 1 of only 50 numbers in wrap around band. $10 (+ $2 s/h)
---
A Selection from ~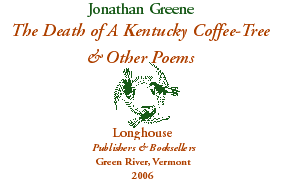 Every evening
we had a toad
come up the steps —

doorman for the
evening shift.

Now wonder
when he quit
this thankless job?
COLOR CONFLAGRATION


Sun setting,
the iris by the pond
up for the competition.

THE DEATH OF A KENTUCKY COFFEE-TREE


Fallen, the large tree
that owned this domain.
Its root ball — flesh-colored
arthritic spikes
that had dug in for its
goodly time.

Seeing daylight
synonyms death.

Saplings that had stunted
in its shadow sing hallelujahs,
compete for new light.
DONKEYS WALLOWING


The donkeys bathe in dust,
the one spot in the pasture
that shines bright on
full-moon nights.

Moved to another pasture,
they will excavate another crater,
grunt with pleasure scooting
along the ground on their spines,

then rise with festive brays and stand
again, refreshed. Giving the donkeys
a good pat, generations of dust rise up,
coughing out a cloud that engulfs us.

Heirloom carpets that have
never been cleaned, they are soon
back to their non-stop grazing.

TROPISM


Four big trees cut down —
we'll watch the Japanese maple unbend.
CUFFS


Off to the city, hitchhikers
secreted in folded denim:
grass seed, sawdust, gravel,
duff, country living's cache,
hidden chaff.

Kicking up my heels, falling down
drunk, a small dump truck from home
spreads its load on the coddled
carpet of clean uptight
apartment living.
Jonathan Greene is the author of two dozen books. He lives on a farm on the
banks of the Kentucky River with his wife, the weaver and photographer Dobree
Adams, four horses, four llamas, two donkeys, two dogs, one cat, and a flock of
chickens.
To purchase the full booklet, this is available exclusively from our Bookshop:
Jonathan Greene. The Death of A Kentucky Coffee-Tree & Other Poems. Longhouse, 2006. First edition. Fold-out accordion booklet. New. Limited edition. 1 of only 50 numbers in wrap around band. $10 (+ $2 s/h)
Also online at Longhouse : "Pond" by Jonathan Greene
---
WOODBURNERS WE RECOMMEND PUBLICATION SERIES 2006
Jonathan Greene. The Death of A Kentucky Coffee-Tree & Other Poems. Longhouse, 2006. First edition. Fold-out accordion booklet. New. Limited edition. 1 of only 50 numbers in wrap around band. $10 (+ $2 s/h)
As an act of goodwill and for poetry - Longhouse is sending out each month a selection of a publication - online - of one poet (or more) we have published in booklet, broadside or postcard form for everyone to share. It's a way of giving back to many of you who have sent to us poems, letters, purchases and the same goodwill over the years. The series will fly in under the banner of our Woodburners We Recommend. It should also be felt as a certain warmth in memory to all our close and dear poetry comrades passed along - each one becoming more of a loss. Each monthly booklet will also be available for purchase from Longhouse. Issued in a very limited keepsake edition of 50 copies. Starting in 2006 we will begin to reissue and present past issues from Longhouse of select poets. For those readers that travel back as far as 1972 when Longhouse began, you know poetry was released like bandits by the day, by the week, by the month, and always free. We have never taken on grants and meant poetry to be seen & heard & on poetry terms. From 2006, into the Infinite, and within the universal cyber cosmos, we would like to share multiple poets with you....and only ask that you share them further.


Home

© 2006 by Jonathan Greene

Site design by two-hands
www.LonghousePoetry.com