New Arrivals for Spring to the Bookshop
Our Catalogs of Poetry & More! for Sale
Home / About Longhouse / Books for Sale / Friends & Links / Contact Us/To Order / Write Us
Now available in print ~
Carol Berge. Unfinished Poem Longhouse, 2006. First edition. Fold out accordion booklet. New. Limited editions. $10 postpaid

In Memory Of
---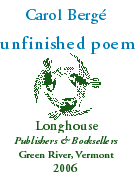 unfinished poem


to go out
to the world
this time dressed as a
japanese printmaker,
not the eye of
epicanthus, but
yes,
perspective
as that of an island:
out, out into a world,
to find it earth! and
more simple, complex
than it seemed:
reducible
to a few lines with
shadings, the wood
to its grain
rather than to the
external form.
what
part of earth are you!
and after that, to
go out,
perhaps dressed as a
haida shaman,
finding it
all ocean! and
strewn with cowry: lines
across sand.
once,
the land bridged.
let it
be an earth color:
orange of hematite or
dark as vital loam
where rivers are,
or blue
of roots from
the parched mesas,
saved
distillate of rain
toward one hand.
but always
as this rug:
woven
of wool from a real sheep,
alive, shorn with shears
and dyed
perhaps with berries
until brilliant, or
left so:
the soft natural.
but always
fashioned with
eyes, with hands,
as friends' faces, worn or
young: with the
nature of it
evident,
brought
out.


WOODBURNERS WE RECOMMEND PUBLICATION SERIES 2006
Now available ~

Carol Berge. Unfinished Poem Longhouse, 2006. First edition. Fold out accordion booklet. New. Limited editions. $10 postpaid

As an act of goodwill and for poetry - Longhouse is sending out each month complete publications - online - of one poet (or more) we have published in booklet, broadside or postcard form for everyone to share. It's a way of giving back to many of you who have sent to us poems, letters, purchases and the same goodwill over the years. The series will fly in under the banner of our Woodburners We Recommend. It should also be felt as a certain warmth in memory to all our close and dear poetry comrades passed along - each one becoming more of a loss. Each monthly booklet will also be available for purchase from Longhouse. Issued in a very limited keepsake edition of 50 copies. Starting in 2006 we will begin to reissue and present past issues from Longhouse of select poets. For those readers that travel back as far as 1972 when Longhouse began, you know poetry was released like bandits by the day, by the week, by the month, and always free. We have never taken on grants and meant poetry to be seen & heard & on poetry terms. From 2006, into the Infinite, and within the universal cyber cosmos, we would like to share multiple poets with you....and only ask that you share them further.


Home

© April 2006 Longhouse, Publishers

Site design by two-hands
www.LonghousePoetry.com